Instant Antioxidant Drink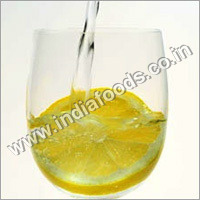 Instant Antioxidant Drink
Product Description
Instant Antioxidant Drink
Being a quality driven organization, our entire endeavor lies in manufacturing and supplying a premium quality range of Instant Antioxidant Drink - Lemon Water in competitive market. To retain in the market, we have offered the competitive advantages such as safe and healthy products, quality assurance and customer satisfaction. The lemon water is highly appreciated by our diverse clients because it contains no preservatives and artificial flavors, which makes it the preferred choice in the market. At our premises, our quality controllers check this Instant Antioxidant Drink - Lemon Water on various predefined norms and standards.

Further Details:

Drink more water,.just add LemonH2o to a 180ml of cold water in a glass or bottle, Carry them with you so you always have fresh citrus taste on hand. We have fortified it with essential Minerals, Electrolytes- Calcium, Sodium, Magnesium, Potassium and Phosphorous to make it a perfect Energy Drink!!
Our Lemon H2o is a multipurpose drink-
Lemon Water- Add our LemonH2o in a180 ml of cold water to get the refreshing taste of lemon water.

Beverages- Add to sparkling soda. To reduce fizzing and avoid overflow, pour carbonated beverages into a glass before adding it

Lemon Teas- Add to iced or black teas

Make flavored ice-cubes-Add Lemon H2o to water and then pour into ice cube trays for flavorful ice!
Most people we know love a squeeze of fresh lemon or lime with their water or club soda. They look forward to having at least some of those eight glasses of water each day with a slice of fresh citrus. The trouble is, most people are often stuck somewhere at work, the gym, the Little League game where water is handy but fresh citrus is not. So, its the right time to move on with LemonH2o-A healthy Day, A healthy Beginning!!