Stevia Sweeteners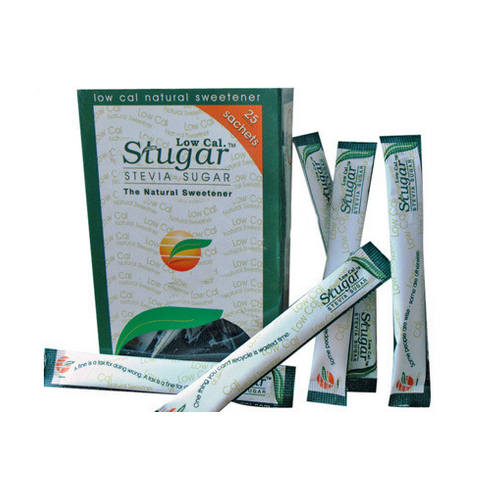 Stevia Sweeteners
Price And Quantity
Product Specifications
Product Description
Stevia Sweeteners
Indian foods have gained immense recognition in this domain for aesthetically manufacturing, exporting and supplying a qualitative range of Stevia Sweeteners. Our offered sweeteners contain no preservations and harmful chemicals, which makes it widely accepted among our clients. The sweeteners, which we are offering is mostly used in coffee, beverages and other food items as a sugar replacement. Our team of quality controllers has tested the sweeteners on several parameters to ensure the quality of the product. This Stevia Sweeteners is offered to our esteemed patrons at market leading prices.
Further Details:

The plant Stevia Rebaudiana commonly known as simply stevia, is widely grown for its sweet leaves. As a sweetener and sugar substitute, stevia's taste has a slower onset and longer duration than that of sugar, although some of its extracts may have a bitter or licorice-like aftertaste at high concentrations.

Stevia extracts have upto 300 times the sweetness of sugar, stevia has garnered attention with the rise in demand for low-carbohydrate, low-sugar food alternatives.

rebaudioside A (reb-A), which is extracted from stevia.

To produce rebaudioside A commercially, stevia plants are dried and subjected to a water extraction process. This crude extract contains about 50% rebaudioside A and is refined using natural crystallization and separation technologies to separate the various glycoside molecules in the extract. This allows the manufacturer to isolate pure rebaudioside A.

Stevia Tablets: India Foods - offers stevia based tablets as well as Reb A tablets depending upon the level of sweetness as required. Various packing options are available with regards to dispenser pack of 100 tablets in a container as well as a combo pack of 300

The Dissolution time, Hardness, Friability as well as certain other parameters are monitored at the factory end for quality approvals.

Packing offered can be customized depending on the requirement of different Co's - we can offer bulk packs, dispensor packs of 100 or more or less tablet pack with front and back sticker label duly blistered on a printed inlay card

As a Co. India Foods offers customized packing interms of dispensor selection or bulk supply along with different or multiple language printing options.

Stevia Sachets: The second variant of stevia forms the - Stevia Sachets of 0.5gm and 1gm. Each 0.5gm sachet is equivalent to 1 teaspoon of sugar in sweetness while each 1gm sachet is equivalent to 2 teaspoon of sugar in sweetness respectively.

Each sachet is made up of a glassine-poly laminated foil that is printed in multiple colors as per requirements given. As a Co. India Foods offers customized packing solutions interms of sachet colors selection or text in different or multiple language printing options. Sachets can be packed in a carton of 25, 50,100 or bulk pack of 500 sachets.

Stevia Granules Powder: The Co. offers Stevia based low calorie granules - it is a combination of Stevia extract along with sugar and lactose, this spoonable stevia granules can be used for cooking and baking various products. India Foods currently offers 200gms, 500gms and 1kg packs for granules - that are commonly used in house-hold as well as for commercial usages.